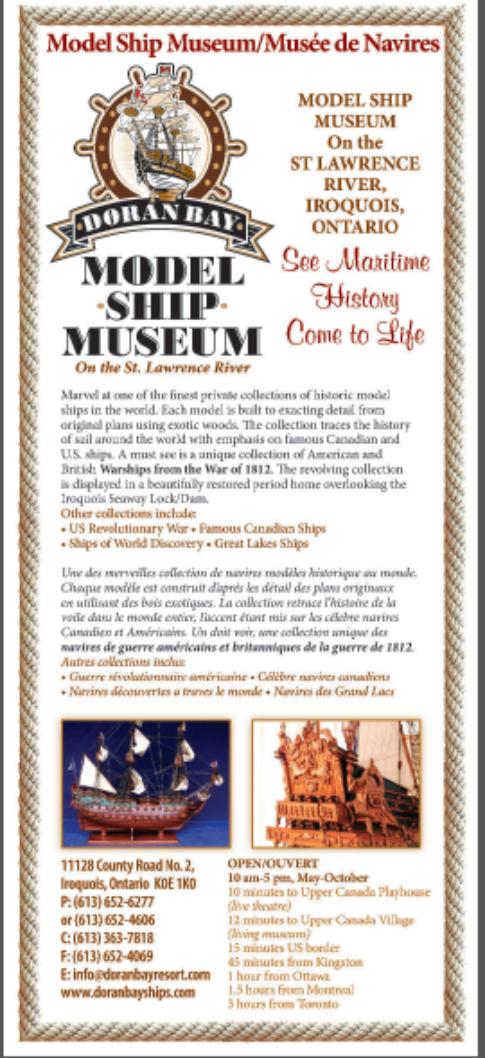 Request a Guided Tour
Please contact us 24 hours in advance of your expected arrival. Please indicate the number of persons in your group, the timeframe available, and whether the tour needs be conducted in English or French.
Getting to the Museum
Address: 11128 County Road 2, Iroquois, ON, K0E 1K0
The Museum is located on the scenic King's Highway #2 which parallels the inter-provincial Highway 401 running between Montreal and Toronto. Watch for Doran Bay signs on the 401 and other major highways.
From Toronto/Montreal - Take Highway 401 and exit south to Iroquois. Take County Road #2 east for 2 km.
From Ottawa - Take Highway 31 (Bank Street) south to Morrisburg. Take County Road #2 west for 6 km; or take highway 416 south, then take County Road 2 East at Johnstown before International Bridge for 20 minutes.
From the United States - Take County Road #2 east 30 minutes from the Ogdensburg/Prescott International Bridge, or County Road #2 west 40 minutes from the Massena/Cornwall International Bridge.
Hours of Operation:
Monday - Sunday
10.00 am - 3.00 pm
Mid June to End Sept